POPOKI PEACE PROJECT
WHAT IS POPOKI'S PEACE BOOK?
POPOKI'S PEACE BOOKS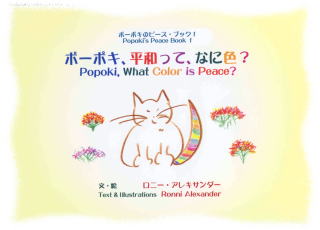 Popoki, What Color is Peace? Popoki's Peace Book 1 (2007) & Popoki, What Color is Friendship? Popoki's Peace Book 2 (2009) (text & illustrations by Ronni Alexander, A5, English and Japanese, Epic) are books which use examples from the everyday life of the cat Popoki to engage the reader in questioning, critical thinking and action for peace. Popoki's books emphasize use of the senses and entire body to critically imagine and express peace.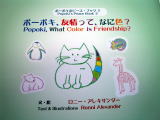 Part of Popoki, What Color is Peace? has been included in DVD form in the Iwanami DVD Book Peace Archives International Museum for Peace as"Popoki's Peace Message.


WHAT IS THE POPOKI PEACE PROJECT?
PEACE PROJECT
The Popoki Peace Project is a voluntary project established in Japan in 2006. It uses Popoki's Peace Boods to promote critical thinking, imagination, expression and action for peace through such activities as workshops, seminars, camps and other events for people of all ages.
All funding comes from the sales of Popoki's Peace Books and donations. So far, workshops using Popoki's Peace Book and DVD have been held throughout Japan and in other countries such as Korea, Canada, South Africa, Timor Leste, Palestine, Israel, Singapore and the United States. The Popoki Peace Project (Po-kai) meets once a month in Kobe. All are welcome. For information, see the latest edition of Popoki News in the Archives of this website,

Popoki Peace Project Pamphlet pamphlet_2009.pdf へのリンク
HOW CAN I JOIN?
e-mail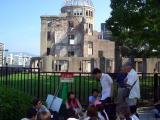 Contributions should be made by postal transfer (yubin furikae) to:
Account number: 00920-4-280350
Account name: Popoki Peace Project Kobe (ポーポキ・ピース・プロジェクト神戸) Postal Bank (Yuucho Ginko) Branch No.099. Branch name:099; Special Account (当座)0280350:
Contributions from outside of Japan should be made in yen, preferably by international postal transfer.
To join Popoki's mailing list, send an e-mail to the following address: popokipeace(at)gmail(dot) com

©Popoki Peace Project/Ronni Alexander 2005